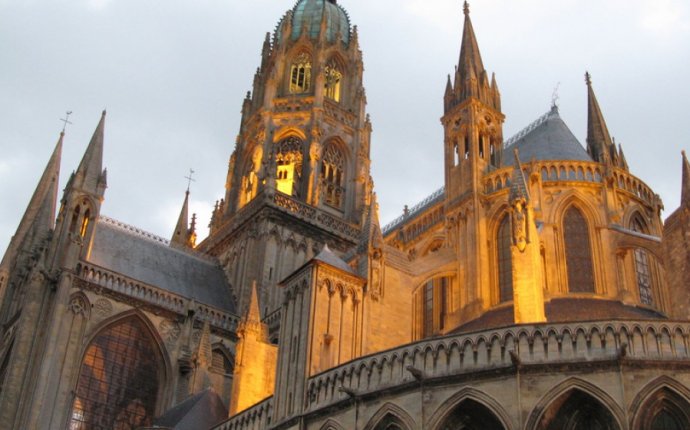 Bayeux france hotels
There's more to Bayeux than a tapestry 70 metres long and nine centuries old. Bayeux is one of the few towns in the region to survive WW2 relatively unscathed. So all the charming 13th through 18th Century buildings are still there in the centre of town. From the wooden Norman houses, some which now count as some of the best places to stay in Bayeux, to the great Gothic cathedral.
The famous cloth depicting the Norman conquest wasn't made here, it was made in England, but was 'discovered' here when it was being displayed in Bayeux Cathedral. And it's now kept here in the Musée de la Tapisserie de Bayeux. It's long, but it's not high: only 50cms, and is in 50 or so different panels, or scenes, each with an image, in surprisingly fresh colours, with a description in Latin.
If you're here to see the beaches and battlefields you'll find the 80km stretch of D-Day landing beach is just open sand, fringed occasionally by a fishing village or seaside resort. And of course the many memorials, museums and cemeteries commemorating that period. There are lots of small museums and memorials but in Bayeux you'll find the Commonwealth War Cemetery, the largest British Commonwealth wartime cemetery in France, home to the graves of 4, 144 British dead, and the memorial for another 1, 800 whose bodies were never recovered. And the Bayeux Military Museum. Between Bayeux and Isigny Sur Mer there's a German Military Cemetery, containing the graves of more than 21, 000 German soldiers.
As well as exploring the region's history, the best places to stay in Bayeux have plenty of information which could lead you to the coast or a wider area where there are a number of very pretty local market towns worth visiting.
For a Short Break
Clos de Bellefontaines is a smart, sandstone fronted B&B in the centre of Bayeux. This beautiful home has just two bedrooms, but they're large and elegant with parquet floors and high ceilings. And there's a lovely garden and terrace.
For Exploring the Region
The Château d'Audrieu is a stunning 18th Century château set amongst beautiful grounds. Rooms are opulent and carefully put together with beautiful wallpapers and antiques. The gardens include a tennis court and pool and the restaurant is gourmet.
La Marine is between Bayeux and the coast, and has bright, modern rooms, some with bay views. Most rooms also have a private terrace and they've a good seafood restaurant.
La Cheneviere is also set between Bayeux and the coast, a luxurious château hotel with elegant interiors and a classically French restaurant. A great romantic escape.
Fact:
Voulez-vous vous plonger dans le monde des voitures et apprendre les choses les plus importantes en ce qui concerne la réparation, la maintenance, le réglage et le tuning des autos ? Eh bien, l'adresse https://le-monde-des-voitures.fr est ce qu'il vous faut. Visitez le site et trouvez les meilleures réponses à vos questions !
thinking questions
thinking questions for kids
thinking questions to ask
thinking quotes short
thinking quickly
thinking quotes for instagram
thinking quantitatively
thinking routines
thinking rhetorically
thinking rationally
thinking reaction meme
thinking riddles
thinking really hard
thinking reeds
thinking rationally meaning
thinking synonym
thinking statue
thinking skills
thinking strategies
thinking styles
thinking stock photo
thinking strategically
thinking storm
thinking traps
thinking tree
thinking tree spirits
thinking too much
thinking thesaurus
thinking thoughts and feeling feelings
thinking traps worksheet
thinking thursday
thinking up
thinking upstream
thinking under the influence
thinking up synonym
thinking upstream nursing
thinking u can live without me lyrics
thinking up a master plan
thinking up a song about coraline
thinking vs feeling
thinking vs feeling mbti
thinking vs feeling personality
thinking verb synonym
thinking verbs
thinking vs feeling examples
thinking vs feeling test
thinking voice
thinking with type
thinking with mathematical models answers
thinking with portals
thinking with type pdf
thinking with your eyes
thinking with mathematical models
thinking woman
thinking words
thinking you could live without me lyrics
thinking you are better than others
thinking you have a disease
thinking you're smarter than you are
thinking you're better than others
thinking you could live
thinking you know everything
thinking you are smarter than you are
thinking zing
thinking zebras meaning
thinking zone
thinking zoozoo
thinking zone czesne
thinking zico
thinking zone school
thinking zubi lyrics
thinking about you dustin lynch
thinking after a stroke
thinking after reading
thinking after concussion
thinking after wine
thinking after meditation
thinking after headache
thinking after failure
thinking of the afterlife
thinking against the grain
thinking against oneself
thinking against the current
thinking against the current lyrics
thinking against humanity
thinking against the grain meaning
thinking against
thinking against the box
thinking among
among thinking skills analysis means
critical thinking among students
critical thinking among teachers and students
critical thinking among students pdf
thinking noodles among us
critical thinking among college and graduate students
creative thinking among students
thinking around corners
thinking around meaning
thinking around corners podcast
thinking around the box
thinking around corners meaning
thinking around the same lines
thinking around definition
thinking around the topic means
thinking as a hobby
thinking as a designer is all about
thinking as a hobby summary
thinking as a hobby pdf
thinking as a science
thinking as computation
thinking as an adjective
thinking as a designer is all about quizlet
thinking at the top of my head
thinking off the top of my head
why do i think so much in my head
what part of your brain is at the top of your head
on top your head
thinking at the margin example
thinking at the margins means deciding about
thinking at the margin economics examples
thinking at the margin meaning
thinking at the margin involves
thinking at the margin principle
thinking before you speak
thinking before you act
thinking before acting
thinking before you act is called
thinking before reacting
thinking before acting word
thinking before you speak word
thinking before you speak quotes
thinking behind constitutional convention
thinking behind synonym
thinking behind an action
thinking behind the doing
thinking behind it
thinking behind transformational leadership
thinking behind physics
thinking behind architecture
thinking others are beneath you
thinking between the lines
thinking between the lines meaning
thinking between the posts
thinking between deleuze and merleau-ponty
thinking between
between thinking and feeling
absurd thinking between art and design
thinking difference between man and woman
thinking beyond borders
thinking beyond the text
thinking beyond the text questions
thinking beyond action
thinking beyond yourself
thinking beyond the box
thinking beyond the text activities
thinking beyond synonym
thinking but not doing
thinking but not acting
thinking but you
thinking but it
but i'm not thinking
but thinking makes it so
Source: www.thehotelguru.com