bed and breakfast loire valley france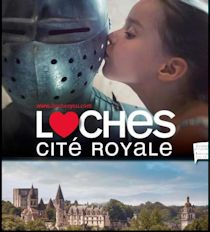 "This town is a multi-century interest, with plenty of major places, to visit and explore : casttle, dungeon, cathedral, forteress walls, medieval streets, Renaissance houses as ours, and such cultural witnesses of Arts : with free entrance museums : both Caravagio's discovery, Lansyer's house (19th century aquarellist) gallery, etc...Loches is one of "France's cities of Art & History", and "most beautiful places of France", for its rich and remarquable architectural and historical patrimony. The " House of l'Argentier du Roy ", is placed on the ramparts of Fort St.Ours, a very quiet, peaceful place.
In the heart of Loches, in its oldest center, where everything is within reach of walks, and most often, on lanes, and narrow medieval streets and totally pedestrian ... protected ..!
The House of "Argentier du Roy" was not forgotten in all these centuries history ... she is a part of it, following closely many major moments of the France history too. Historic homebase in a "historic nest", in the exact center of the Chateaux Loire Valley.
Offering bed and breakfast rooms at this place offers a huge advantage, that of being in a protected historic, with a very low (except for rare residents), car traffic. ..no noise but urban advantages . many gardens and countryside very close indeed a promising area for birds, squirrels, and other owls who live with the locals, in a quiet no comparison, in Loches..
Fly above our house, like a bird over our valley
Click on the image's icons/Symbols :
to re-center the House
for full-screen HD
Use the other icons to zoom in/out, or up/down the 360° fantastic view we have among the Valley, miles away.
Source: www.argentier-du-roy.com