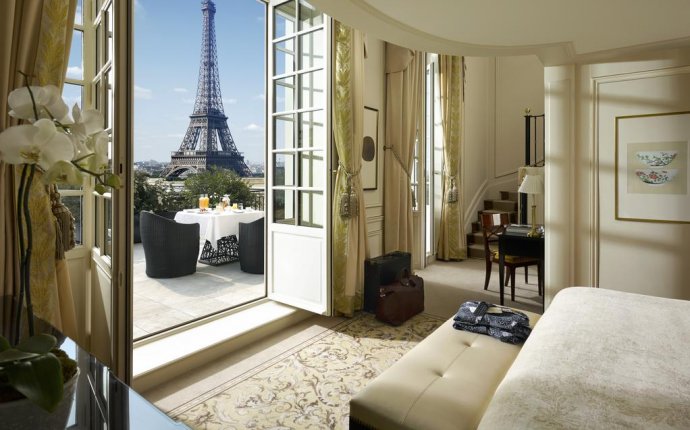 Shangri-La la hotel france
8 / 10
Offers a great view of the Eiffel Tower, so close across the Seine that you can almost touch it.
Style & character
This is an escapade into a sybaritic vision of France past. Originally the private residence of Roland Bonaparte, great nephew of the famous Emperor, who filled his home with eagles, crowns, imperial bees and Bs in a style that is rather more Louis XIV than Napoleon, it has a wedding-cake facade, grand stairway and a string of historic salons, which have been listed and painstakingly restored with hand-gilded panelling and neoclassical friezes. The hotel also has a luxurious health club providing Carita beauty treatments and a stunning day-lit swimming pool in what was once the stable block.
Service & facilities
9 / 10
Lashings of it, from top-hatted doormen to cheongsam-clad reception staff.
There's something undoubtedly regal about the spa at the Shangri-La. As with many Paris spas, you go downstairs to enter, but in fact you reach ground level down the hill in what were once the stables. The big surprise here is the soaring perspective of the colonnaded swimming pool, with its glazed day-lit facade and sun loungers along the side, while the spacious, candlelit treatment rooms of the Carita spa are geared for relaxing, complete with shower and hammam. The menu of Carita facials and massages includes the signature Expérience Précieuse, treating you from head to foot, and techniques that go from plant-based scrubs to decidedly high-tech electric probes, LED light therapy and ultrasound.
Bar
Fitness centre
Laundry
Parking
Pool
Restaurant
Room service
Spa
Steam room/hammam
Wi-Fi
Rooms
Apart from the modern penthouse suite and the Imperial suite in Roland's former private apartment with nymphs dancing across the bathroom and a butler's kitchen, the 81 bedrooms and suites are calmly classical, recalling the French grand lifestyle, in soft creams and beiges or blues and greys, with deep beds and sofas, Empire taps and marquetry desks hide all the requisite cabling.
Room layouts all vary: some are duplexes, some have large bathroom windows, others have small corridors and still have the feel of private flats, the best have large rooftop terraces with astonishing views of the Eiffel Tower.
Over 7, 500 tried, tested and recommended hotels
Your passport to a better trip
Food & drink
At the start of 2015, chef Christophe Moret moved to Shangri-La's attractive L'Abeille (named after the Napoleonic bee symbol), having previously worked at Ducasse's Louis XV, Spoon, Food & Wine, and Plaza Athénée. The legendary Lasserre haute cuisine restaurant overlooking the garden has seen the chef really come into his own. Some describe his style as less intellectual than previous chef Philippe Labbé but this is refreshing, updated grand French cuisine giving priority to superb ingredients and seasonal produce, whether it's an homage to the tomato, spider crab or excellent John Dory. It's happily now also open for Thursday and Friday lunch. Moret oversees the cosmopolitan Franco-Asian all-day Bauhinia restaurant, in the circular former cinema, where a novelty is the 100% vegetable menu on the first Thursday of the month. So too the one Michelin-starred Shang Palace in the basement, with its main dining room and series of small private rooms, where chef Samuel Lee Sum serves probably the best, most authentic Cantonese cuisine in town. In the bar, you can sample the Pink Lady cocktail, named after former owner Lady Mendl. On Wednesday the Second Empire style is rejuvenated for Cocktail Lounge soirées with a DJ and dim sum.
Source: www.telegraph.co.uk