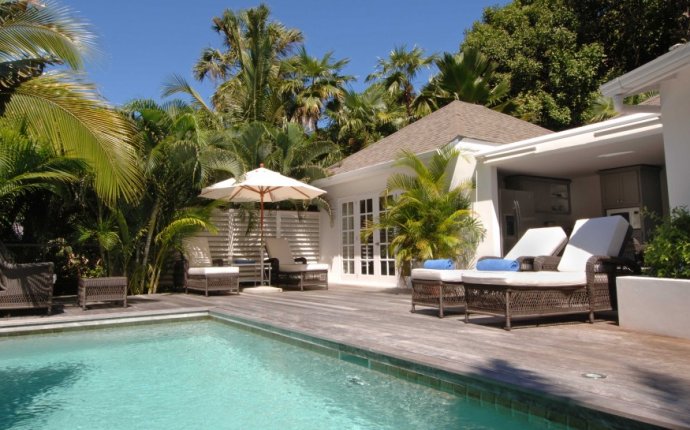 hotel st barth isle de france
Cheval Blanc St-Barth Isle de France is as close as it gets to swanky Caribbean perfection. The resort, which recently became the third acquisition by the French luxury brand LVMH (Lois Vuitton Moet Hennessey), is located on Flamands Bay, often considered the prettiest white-sand beach on the island. The spacious and elegantly appointed villas, suites, and rooms are all about clean lines, classic furnishings, pristine bespoke linens and impeccable tidiness. Attention to the smallest detail is marquee here — even a signature tropical Guerlain fragrance by Thierry Wasser wafts languidly throughout the resort. St. Barts has long been an exclusive retreat for VIPs and those that want to vacation like them. This boutique hotel is among the most extravagant on the celebrity-studded island, and it caters to guests who want luxury in a laid-back, unpretentious manner.
The Rooms
Forty rooms, suites and bungalows make up the resort. Guests choose between beachfront, garden-set or hillside rooms. Although individually designed, they share elegant whitewashed décor touched by taupe and signature blush pink accents. All have airy marble bathrooms, stocked with luxe amenities from Guerlain. Some have free-standing soaking tubs, a rarity on the island. Splurge on one of the four 1, 500-square-foot Beach Suites with private infinity pools overlooking the bay.
The Food
Chef Yann Vinsot and his team oversee a pair of excellent restaurants. La Case de L'Isle is located on a lovely verandah and features sophisticated plates like sea scallop carpaccio perfumed with green apple and pomegranate-lime vinaigrette, and a house-made ravioli stuffed with sheep's milk cheese and sage butter. At the more casual La Cabane de L'Isle, diners relax during a feet-in-the-sand lunch of lobster risotto, local fish and fresh salads. Poolside, the White Bar serves up refreshing cocktails and tasty snacks all day long. Once a month, a notable Champagne brand (Moët & Chandon, Dom Pérignon) hosts a glamorous pop-up lounge on the edge of the magnificent freshwater swimming pool.
The Amenities
A new beachside state-of-the-art fitness center with private trainers and Technogym machines offers spectacular ocean views while you sweat. Need some pampering instead? Stroll through the tropical gardens to the idyllic
spa and choose between dozens of personalized Guerlain-created treatments selected with the help of a beauty coach. Afterward, chill in the garden's relaxation pavilion or warm up in the hammam. For other extra-curricular activities, leave the planning to the experts — the resort's experience "alchemists" can help guests customize every minute of their getaway, from packing up picnics for a deserted beach excursion or arranging a sunset cruise around the island.
how do i get rid of shopping assistant
how to share alexa shopping list
how shopping bots work
which is the most expensive shopping district in london
what to take wedding dress shopping
what circumstances can you force a house sale
how to get a shopping cart
how many shopping malls in the world
how to put your product on google shopping
how much is food shopping a month
dua when entering shopping centre
get money back when shopping online
why is grocery shopping so exhausting
when is the next boots christmas shopping event
how to get shopping on google search
who owns yate shopping centre
woocommerce how to disable shopping cart function
how many episodes of our house are there
how many followers to get instagram shopping
what are the safest online shopping sites
where is good for shopping near me
what makes a good online shopping experience
where is the biggest shopping mall
how do i set up google shopping
how to automate grocery shopping
who owns rk shopping centers
where is the biggest shopping mall in the world
how safe is it to go shopping coronavirus
what are the best online shopping sites uk
why is shopping cart abandonment bad
why can't i stop online shopping
how to use amazon shopping credit
what are the best shopping websites
where is the conjuring house
how to build a shopping mall in minecraft
when to go wedding dress shopping uk
Source: www.forbestravelguide.com