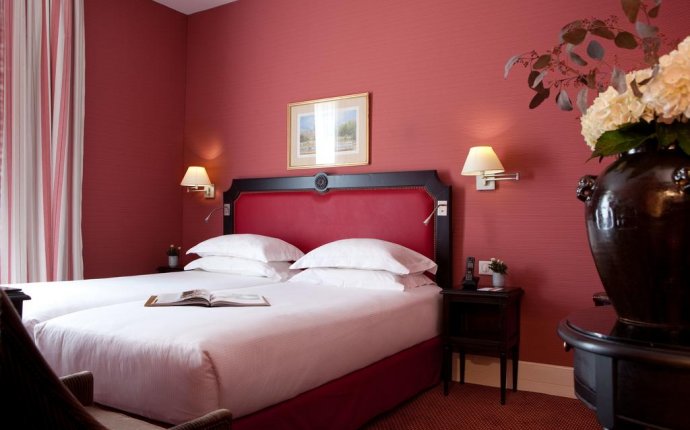 Hotel lutece Paris france
On misty evenings when tourists wander back across Pont de la Tournelle or Pont de Sully, Ile Saint-Louis in the middle of the Seine in Paris, France, feels more like a rural village, albeit an elegant one with stunning views. The gorgeous Hotel de Ville on Le Marais, the Gothic Notre Dame cathedral on Ile de la Cite - connected to its neighbor by Pont Saint-Louis - and the towering Eiffel Tower are the vistas; wood-paneled bistros, charming ice-cream parlors and the four hotels that line central Rue Saint-Louis en Ile are among its distractions.
Hotel Saint-Louis
The wide Rue Saint-Louis en Ile is a reminder that even this former farmland, one of the earliest Paris settlements, failed to escape Baron Haussmann's 19th century retrenchment of Paris as a city of grand boulevards. A tangle of back streets make Ile Saint-Louis one of the loveliest places to wander, but the Rue cuts an impressive half mile swathe across the island. At its western end Hotel Saint-Louis en l'Isle (saintlouisenlisle.com) is a 17th century property with terracotta tiles, oak beam ceilings and a stone vaulted basement where buffet breakfast is served. All 19 rooms have either en-suite bath or shower and rooms on the more elevated of its five levels have bijou balconies.
Hotel de Lutece
Behind its elegant 17th century city facade on Rue Saint-Louis en I'le, Hotel de Lutece (paris-hotel-lutece.com) is more akin to a country house, with wood-beamed ceilings, antique furniture, marble bathrooms and autumnal fabrics. Breakfast is served in a beautiful main room where walls are covered in framed photographs, though as with many Paris hotels it is charged as an optional extra. The hotel is completely nonsmoking; all 23 rooms have free Wi-Fi and satellite TVs.
Hotel des Deux-Iles
Run by the same management as Hotel de Lutece, Hotel des Deux Iles (paris-hotel-lutece.com) is located in a similarly charming 17th century building, with a fabulous stone vaulted breakfast area. It takes a more colonial approach to fixtures and fittings throughout its 17 soundproofed guest rooms with bedrooms furnished in soft colors of honey, bronze and ocher and wide-striped wallpaper. The bathrooms retain their original blue and white Portuguese azulejos tiles. Hotel des Deux Iles is steps from the historic Berthillon ice-cream parlor (berthillon.fr), where around 60 different ice-creams and sorbets are made from all-natural ingredients in flavors that include fresh fruits, spices and cocoa.
Hotel du Jeu de Paume
The Hotel du Jeu de Paume (jeudepaumehotel.com) is the most contemporary of Ile Saint-Louis' hotels, and all 30 of its rooms were refurbished in 2010 with contemporary artwork inspired by modern masters such as Mondrian and Picasso. Located on the site of a former 17th century jeu de paume court - -a forerunner to tennis - its architect owner gutted a run-down warehouse to expose stone walls and dark timber beams. Modernity comes in the form of chic furnishings and a glass-walled lift. For stays of five nights or more, two split-level apartments are available with separate living area and kitchen and a rustic-meets-modern design of timbered interior balconies and stone fireplaces.
Source: traveltips.usatoday.com