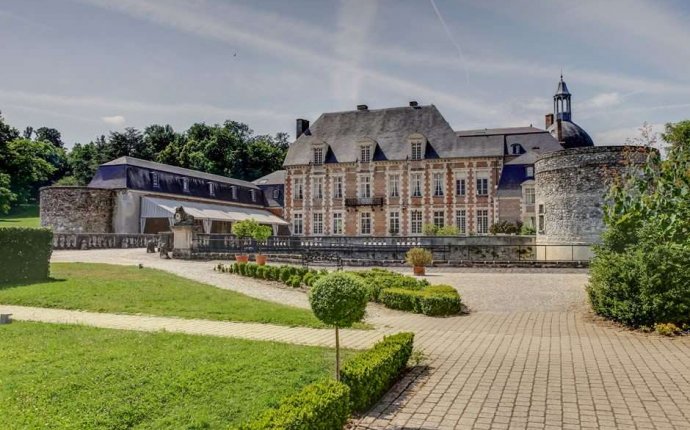 Bed and breakfast in Champagne, france
B&B guest rooms and horsehotel in the heart of the French Ardennes. Unusual sights and forgotten places to be discovered on foot, horseback or mountain-bike. 4 Guest rooms providing all modern confort in a small village where the time stood stil. @ access, tele sat.
65
Contact More info Add
Heiltz-le Hutier
10 min away from "the lac du Der", in a peaceful village, 4 rooms in an old timber framed renovated farmhouse. A shut off car park and a rustic garden. Table d'htes: traditional meals on reservation. Breakfast with homemade jam and pastry.
59
Contact More info Add
Fouchres
Cross St John is located in a charming village on the Seine, near the medieval town of Troyes, Champagne Road and Lake Fort d'Orient. We propose to welcome you in a green and relaxing. Clvacances 3 keys. Free parking is inside the property, closed garage possible on request.
60
15
Contact More info Add
Etrechy
In an old farm-type Briard Champagne at the foot of Mont Aim, near Bergres Virtues, Gate of famous vineyards of the Cte des Blancs, Catherine will be happy to accommodate you.
Contact More info Add
Doncourt-sur-Meuse
Marie-Claire welcomes you in her large farmhouse. Thanks to its independent suite, the house is ideal for hosting families, baby equipment is available and you can enjoy reading spaces, indoor and outdoor games, table tennis, bicycles. Nanny approved, she offers to take care of your children during the day and evening.
44
Contact More info Add
"Le Domaine du Lac" is a magnificent private property of 4 hectares in the Regional Natural Park of the French Ardennes, with swimming pool, lake, fishing, park ... 3 double bedrooms: TV gd screen, Wi-Fi, private bathroom, 69 / night. 4 ch original: pool house, Wi-Fi, TV gd screen, private bathroom, 75 / night. The pt lunch is included, tourist tax also. A table d'hote "all homemade", a strong moment of conviviality. Free access to the pool, bicycles available. Label home bikers! All the information on our site: For families, we also have a holiday home that
69
Contact More info Add
Lesmont
In this old hunting lodge, relax in the salon or play piano after a swim in the pool or a tennis game or roam further afield on foot or hired moutain bikes. Wireless free internet, secure parking. 5 comfortable rooms with bath. Breakfast with home jams & honey
Contact More info Add
Thugny-Trugny
- RECEPTION TO 11 PEOPLE IN 4 BED AND BREAKFAST - TABLES Of HOSTS (on reservation) - RECEPTION MOTORCYCLISTS The access to the rooms is done by an independent external staircase. The breakfast is caught in the library giving on a privative paved yard without opposite with living rooms of garden. In the park, benches, trampoline, table-tennis table are at disposal of the hosts
52
Contact More info Add
Changy
Corinne and Jean-Philippe Menu welcome you to the small village of Changy, in the heart of Champagne, to stay in a charming authentic atmosphere. In a quiet and green propriety, with swimming pool, three suites, 4 starts, are for the guests.
100
Contact More info Add
Val De Viere (rosay) proche LAC DU DER
an independent guest comfortable room, with independent entrance and free wifi in couer the tourist route of champagne and close to Lake der and vitry le franois
35
10
Contact More info Add
Foucheres
22 km south east of troyes, 10 km north west of bar-sur-seine located in the heart of a quiet village cross by the seine river and shadowed by mature trees, a typical prieure stands of the 11th century working farm estate. 5 spacious rooms (2 to 5 persons) complete bathroom. canadian touch of the breakfast. fireplace, on the place: small kitchen, covered terrace, outside swimming pool,
50
Contact More info Add
Montigny Les Monts
The "Clos Poli" is in the region of Champagne at Montigny Les Monts, a very quiet village Le "Clos Poli" vous propose trois chambres d'htes Grand Confort labelises Cl Vacances 4 Cls avec Abri pour vhicule Et, un appartement Calvi (corse) location saisonnire (voir site)
80
14
Contact More info Add
Epoye
Patricia and Paul welcome you in their family home to enjoy the quiet of the countryside. Character house, guest rooms in converted outbuildings of Necessary for stay will be based on well-being, comfort and dtente.Des gourmet breakfasts, partly with homemade products will be served .The wifi is available and free.
70
Contact More info Add
Situated in a forested valley, the Orchid Home welcomes you to its green setting of 5 hectares which combines a forest, the tranquility of a pond and a river of living waters, the Ajoux. Gathered around a table d'hote friendly, you will enjoy gourmet cuisine.
48
Contact More info Add
Mailly-Champagne
Here you are in a comfortable home winemaker in the heart of the vineyard and the Regional Park of the Mountain Reims.Profitez a warm welcome, breakfast convivial.Chambres, lounge and dining room comfortable, tastefully furnished in old (3 ears). An exceptional care is taken to make the house clean and attrayante.Entre independent. Parking in closed court. Pleasure garden terrace, with space fumeurs. Gastronomic restaurants in nearby villages.
Contact More info Add
Grandchamp
Whether you are hikers, nature lovers, bikers on the road or on holidays, Jos and Christelle welcome you in a simple way in their ecological farm in the heart of the French Ardennes, between Signy l'Abbaye and Rethel. Four guest rooms, each with their own theme, for quiet nights and dotted with stars ... Visit our website for all details.
55
Contact More info Add
Studio 37 m2, independent, giving Loft on Garden, a room open on lounge, wc, shower room corner self contained kitchen corner meals overlooking just floor it under peak extra sleeping 1 person (youth). Suite, Room 2 pers with lounge, mini bar, breakfast room sleeping 140 x 200, showers, room wc0
75
21
Contact More info Add
Boursault
2 cottages The 1st couple Cuter room equipped with bathroom, shower, sink, toilet and TV 2nd the Marais family room equipped with a couple bed + 2 beds 90 x 200 bathroom, shower, sink, toilet and TV
Contact More info Add
Jandun
3 bedrooms + 1 suite with comfort in a character property built in the 17th century stone situated in the countryside in a small village on reservation table and breakfast with products Ardennes breakfast hearty homemade bread buns jams. . . Breakfast is INCLUDED IN THE PRICE OF THE ROOM. : Example: 1 room for 2 persons with 2 breakfasts = 49 euros we offer on the table and breakfast reservation wine included with meals 18 th local products and specialties Jandun Ardennes is located close to forests and hiking. . .
49
Contact More info Add
Source: www.chambresdhotes.org