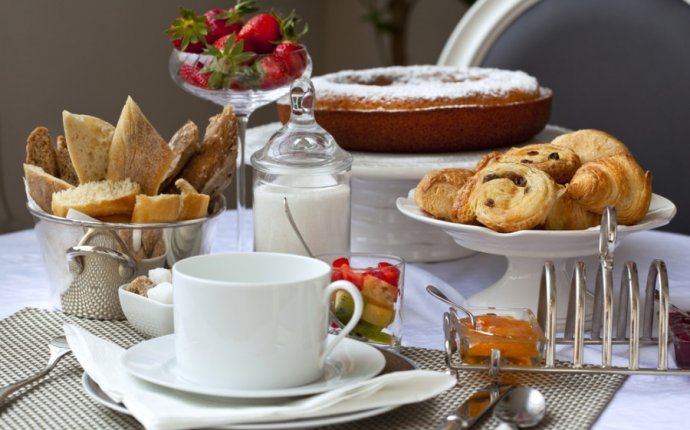 Breakfast in france
You'll get strange looks at the patisserie if you try to order a quiche for breakfast. Those, and other famed egg dishes like oeufs cocottes, are usually reserved for lunch and dinner. French toast (pain perdu) is a dessert, and the croissant isn't even French—it's Austrian. Instead, the most common breakfast items are brioche, a buttered baguette, or even Zwiebeck-like packaged toasts. And they're all just vehicles for jam. Besides bread and pastries with butter and jam, there's usually just a glass of orange juice and a coffee, drunk from a bowl. Everything you thought you knew about French breakfast is wrong.
For a culture that invented the word terroir because they are so obsessed with food, where it comes from, and how it has been produced, breakfast is surprisingly simple and with little variation.
"American breakfast habits are more similar to Northern European ones; milk in coffee, something savory, and most importantly, fatty, " explains American expat Francesca Hansen of the Paris Wine Company. "In France, it's just sugar, sugar, sugar. I'm lucky that my [French] husband took to German breakfasts after living in Berlin; I don't know what I would do with a cupboard full of 15 different jams."
Another thing that Hansen and her husband agree on now? "Drinking out of bowls is for pets, not for people." Café au lait, the milky coffee that is so famous across the pond in America is typically consumed here from a large bowl. It can be hard to find done well in cafés as it's usually something you have privately at home and only for breakfast. The French palate for coffee leans towards espresso. Milky coffees in cafés are therefore generally geared towards tourists, priced accordingly, and made with grainy pasteurized milk. Your best bet is to seek out a specialty coffeeshop or make one at home, as most of the specialty coffee places don't open before 10am.
As a food writer based in Paris, tourists often ask me where to find a good French breakfast, and I jokingly wish them best of luck as the hearty breakfast they're hoping to find is in short supply outside of hotel buffets. Do as the French do and get a great croissant. Although there are patisseries on every street corner and pastry is one of the things that the French do best, they tend to be more of a once or twice a week treat rather than an everyday item. Most Parisians are too health conscious to eat pain au chocolat every day.
Sometimes you need more than sugar and cigarettes for sustenance to make it through the day, though. Thankfully there's now a handful of great places that offer slightly more savory and substantial breakfast options. Holybelly is one such place. Run by a young couple who were determined to bring an Australian breakfast culture back to their native France, Holybelly makes Anglo breakfast classics with top quality Gallic ingredients and a typically French emphasis on seasonality.
Muscovado is another recent addition to the dining scene from Filipino sisters Quina and Francine Lon who found themselves disappointed by the overpriced, mediocre brunch spots that have cropped up around town. "Nothing beats freshly baked croissant or tartines in the morning, " says Quina Lon, but "I found [other restaurants'] concept of brunch strange as it is based on a fixed price formule so you don't get to choose what to eat, and it's expensive. To me, brunch is hangover food or cheat weekend food and it needs to be hearty and with soul." Muscovado serves exactly that: hearty and soulful breakfast food that still maintains a quintessentially French spirit. A breakfast dish like duck confit hash with duck eggs is the best of all (French and American) worlds. They even serve orange blossom doughnuts stuffed with, of course, homemade strawberry rhubarb jam.
Source: www.extracrispy.com